Sky Kennels by Petmate
Lessons learned by following the History of the Sky Kennel by Doskocil (Petmate)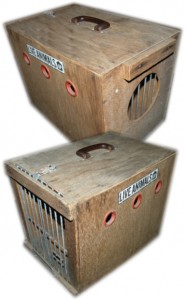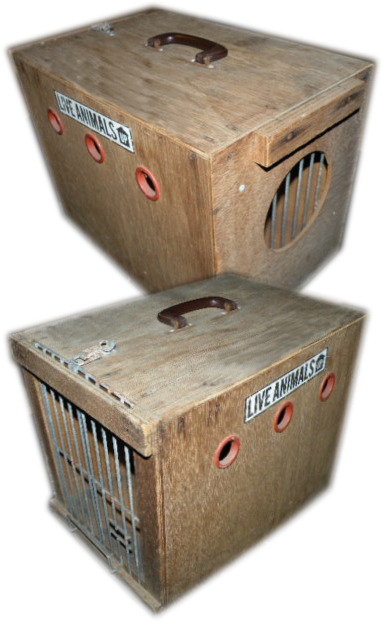 When pets first began to travel on airplanes, the wooden shipping crate was the only option for transporting them—that is until Doskocil (Petmate) introduced the Fiberglass Sky Kennel. Today the Sky Kennel is airlines' first choice for pets traveling in the cargo/luggage compartment. To date this is the only brand of hard-shell carriers sold by airlines for use on their flights.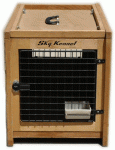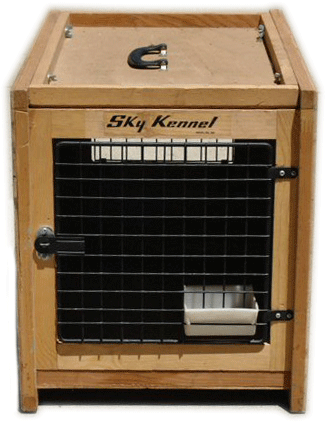 But why choose Sky Kennel over other products like Vari Kennels?
The current Sky Kennel looks just like the Vari Kennel, both are made by Doskocil (Petmate), and both are made from the exact same plastic injection molds.
So what is the difference between them?
The answer is: There's very little difference these days. But many years ago, the differences were very apparent. The Original Sky Kennel was made for airline use only and sold exclusively by major airlines. To purchase one, you had to either go to the airline cargo office or pre-order one for pick-up at an airline ticket counter. You couldn't buy one at a pet store, from a catalog, or for that matter online since this was long before the Internet..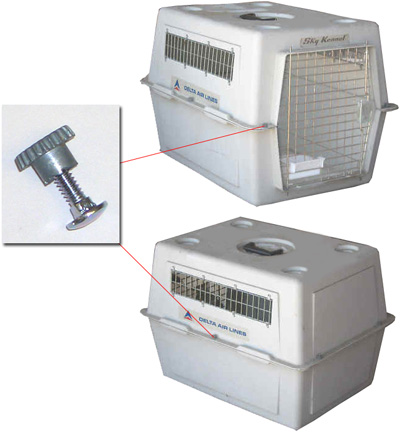 The Original Sky Kennel had unique features like:
A heavy-duty fiberglass shell (not plastic), which was strong enough to resist bending, warping, or losing its shape;
Labels featuring the name of the airline that sold that particular kennel(i.e., Delta Air Lines, United Airlines, Northwest Airlines); and
A single slot in the door so that airline personnel could pull out the food or water bowl for refilling and place it back in the kennel without opening the door.
As you can tell from the features listed above, the key goal of the Original Sky Kennel was to keep a pet securely contained while traveling—not necessarily for the safety of the pet, but more likely for the safety of other passengers and the plane itself. One of the biggest concerns when pets first started to travel in cargo was that they could get loose during the flight and wreak havoc by chewing wires or delicate mechanical instruments that are housed in the plane's luggage compartment. Once pets became commonplace on airplanes, rules governing pet containers began to relax—and pet escapes became common occurrences.
Federal Laws passed in May 2005 by DOT (Department of Transportation) required US airlines to report pet-related incidents (e.g., loss, injury, death) and has resulted in a treasure trove of valuable information. For instance, it helped airlines realize that one of its biggest pet-related mistakes was allowing pets to travel in faulty, insecure kennels. After five years of collecting and reviewing the information most major airlines have adopted new in-house rules.
1. Require kennels to be secured with metal hardware (which the Original Sky Kennel had). NOW AVAILABLE on our site
2. Require pet owners to reinforce their pet's kennel door frames with releasable cable ties. That way, plastic kennels (unlike fiberglass) prone to losing their shape (especially around the door frame) cannot accidentally open during a flight.
Both these rules were adopted between 2009 and 2010 after countless pets escaped in planes' cargo holds or while being transferred between cargo offices and the plane. Since these new rules took effect, pet escapes have once again become a very rare occurrence.
To find these airline-required items like Hand Releasable Cable Ties and Solid Metal Kennel Securing Hardware visit DryFur.com and learn from the history of the Sky Kennel keep your pet securely contained while traveling so your pet will arrive safe and happy!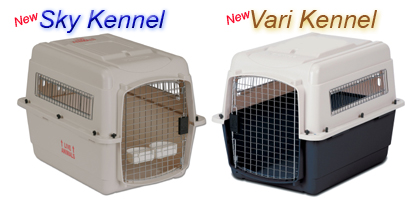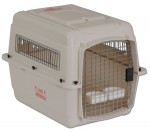 More Information on Sky Kennel and Vari Kennel
The Series (size) 200 thru 500 Sky Kennel and Vari Kennel have recently been re-designed and features ventilation holes on all 4 sides which is required for pets traveling Internationally. They also have a thicker rim that requires longer bolt attachments to keep the top and bottom together. Another Great feature is the pre-drilled cable tie holes around the door for securing the door and keeping it closed during flight. A quick way to tell the difference between the old style Kennels and new re-designed style Kennels is the rounded corners and door opening. Sky Kennels for Air Travel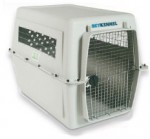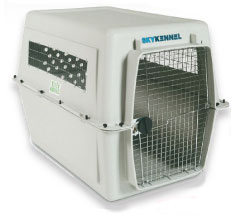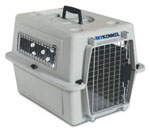 The Series (size) 100 and 700 Sky Kennel and Vari Kennel have not been re-designed. They both still have the square corners and door openings. Only the SKY Kennel comes with ventilation on all 4 sides, but the holes on the back wall are clearly drilled manually after the molding process.
Also note neither the 100 or 700 Sky Kennels – Vari Kennels have pre-drilled cable tie holes around the door and they both have thinner rims that require shorter bolt attachments to keep the top and bottom together.
NEW Grreat Choice Kennels by Petmate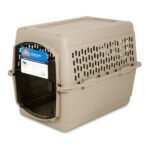 Rightfully named the Grreat Choice is a great choice* for pets traveling on airlines.
 They are made by Petmate same maker of the Sky and Vari Kennel.
All sizes have pre-drilled cable tie holes around the doors.
All sizes have ventilation on all four sides.
They are usually a little less expensive than Sky or Vari Kennels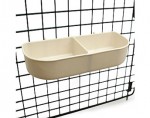 *The only downfall I discovered, is the size XS and Small have tiny doors which makes it impossible to fit (2) individual food water dishes on side by side. But you can still fit a small double dish or you can stagger (2) individual dishes on the door of the size Small but it is a very tight squeeze.
You May Also Like: