Plasticrate, Remington, Travel Aire, Kennel Aire & Retriever Replacement Parts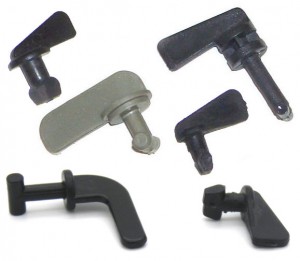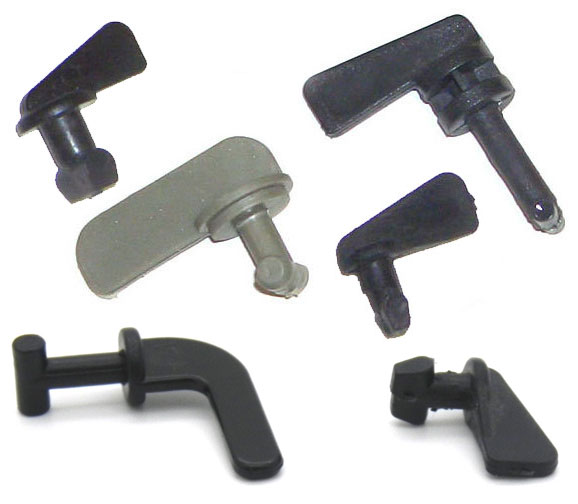 Looking for these replacement plastic pegs or plastic turn latches for your old Plasticrate, Kennel-Aire, Travel-Aire, Remington or Retriever Kennel and wondering why they are no longer available?
The fact is 2 years ago Petmate negotiated a deal to purchase the Molds for these well known brands and vowed to continue producing the kennels. They also promised to continue producing replacement parts for these kennels. Truth be known shortly thereafter they actual retired (destroyed) all the molds leaving customers in a lurch with no other option but to throw out their old kennels needing repair or spare parts and purchase new ones-hopefully from (them) Petmate.
In an attempt to assist these customers Petmate had inherited, yet clearly abandoned, we decided to look into the cost of purchasing new molds for all these discontinued plastic pegs and latches and begin producing these replacement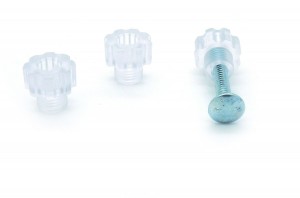 parts ourselves. Our goal was to not only help these clients but also to help the environment by keeping these large Plastic kennels out of landfills due to something as simple as a few tiny missing parts. After a year of research we came to the conclusion producing the new molds for all the different sizes-styles of plastic pegs these kennels required was much too expensive and complicated. Instead we decided to design and develop a truly UNIVERSAL fastener that could replace all these plastic pegs and latches. Cutting out the huge expense of purchasing 6-7 plastic injection molds insured our NEW Fasten Tight – Universal Pet Carrier Fasteners are not only convenient but also affordable.
Metal Bolt with Clear Plastic Nut fasteners to replace Plastic Pegs and Latches for Plasticrate, Remington, Travel Aire, Kennel Aire and Retriever Kennel – Crates. Guaranteed to fit all pet carriers, dog kennels and Crates that have holes for bolts or Pegs or Latches.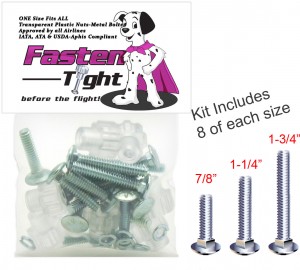 Our kit includes 8 Short bolts, 8 Long bolts and 8 XL bolts and 8 Special Plastic Clear Thumb Nuts. We also offer Thumb Nuts Alone in Bulk.
As you can see below our New fasteners fit and replace the need for the plastic pegs shown above. The neck of the Thumb nut fit inside the round cavity creating a countersunk look which is not only attractive but also more secure than the original plastic peg attachments. Our New Fasteners are GUARANTEED to fit your Travel-Aire, Remington, Kennel-Aire, Plasticrate or Retriever Kennels no matter what size or brand.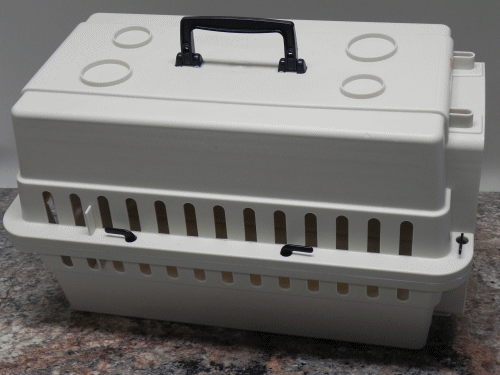 You May Also Like: