FREE Travel Forms – Pet Airline Passport Documents
CHECK BACK OFTEN as our list will grow!
LIVE ANIMAL Certificates Of Acclimation:
A statement that your vet should fill out and sign for pets traveling in lower or higher than normal temperatures.
IATA Shipper's Certification For Live Animal/s:
Filled in and signed by shipper (Print on 1 page – Front page and Back page)
Live Animal Feeding and Watering Instructions – Shipper's Declaration:
Filled in and signed by pet's owner. Available in printable or fill-n-print.
GREEN – LAR – IATA "LIVE ANIMAL" LABELS
Certificate of Veterinary Inspection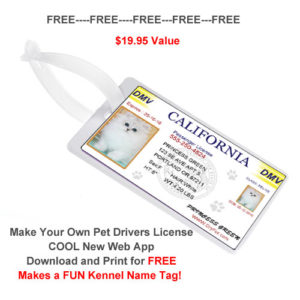 Create your Dog or Cat a FUN Drivers License, Pilot License, Passenger License, DMV ID card. You upload the picture and the text and the program Generates your Free ID CARD. For printing or saving for easy sharing with friends on facebook…
Makes a great Professional Kennel Name tag for traveling dogs and cats.
You May Also Like: