DryFur® Cushioned Pad User Instructions
Size
The DryFur® pet carrier inserts currently comes in 4 sizes: Pink-Petite , Blue-Small, Yellow-Medium, & Green-Large. The flexible wings creates a one size fits all in each size category. A properly sized DryFur® will fit snugly into carrier with its flexible wings extending partially up on the interior wall of the carrier. Once you have decided what size of DryFur® fits your pet carrier best, our color-size coding, makes purchasing the right size DryFur® very simple.
DryFur® Sizing Chart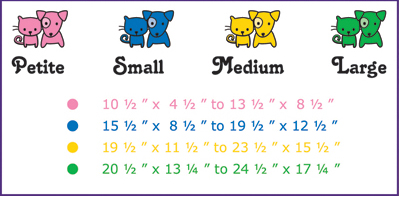 Insert
Insert the DryFur® diagonally through the pet carrier's opening cushion side up, with the stay-clean tab toward you. Place your hand on top of the insert and gently push downward until wings flex upward onto interior walls and the bottom of DryFur® is in contact with the bottom of the carrier. Place pet inside carrier. Close the door. The stay-clean tab should extend under or through the wire openings of the carrier door.
Dispose
Once the pad becomes soiled simply remove the insert from pet carrier by grasping the stay-clean tab then dispose of it in the regular trash. (In a pinch the pad may be removed then turned over and placed back in the carrier clean side up and used a second time)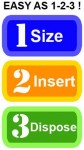 You May Also Like: