Hand Releasable Cable Ties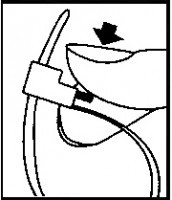 Price:$4.59 – 24pk
Price:$8.99 – 100pk


Weight:0.25 LBS
Shipping:Free Shipping (US Only)
Product Description
24 pk Hand Releasable Cable Ties to reinforce Kennel Door During Flight
Required by all airlines
Hand releasable / reusable
Keep kennel closed and pet safe during flight
Fits all Airline Approved Kennels
Extra Large Trigger
MADE in the USA
8″ long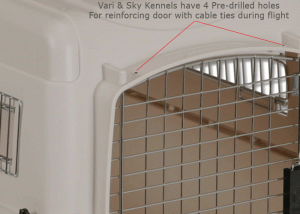 Did you know that NOT applying Ties to the airline kennel door is the Most Common yet BIGGEST mistake made by airline personnel and is the major cause of incidences like pet loss, escape, injury and even death.
Our Special Hand Releasable Cable ties, are required for securing Airline Kennels, Crates & Carriers DOORs during flights.
They feature an Extra Large Trigger – makes opening door easy to do with no tools yet keeps door securely closed during flights, and during loading or unloading on the tarmac and cargo area.
TIP: If your carrier / kennel is lacking these special holes that is easily modified by drilling your own slightly behind all four sides of door.
ATTENTION: We have recently discovered some "professional pet shipper's" offering for sale on their websites a set of 2 VERY long (21″) hand releasable cable ties that they recommend you install by stretching the cable tie from kennel door all the way to the ventilation panels on the side of the kennels in lieu of just using the pre-drilled cable tie holes or drilling cable tie holes yourself around the door.
PLEASE —DO NOT FOLLOW the instruction of these "professional pet shippers" or purchase (21″) hand releasable cable ties for securing the door, this METHOD is very dangerous and poses a real risk to your pet, including reports that pets have been injured by chewing and swallows the accessible cable tie also escape have been reported when cable ties where improperly installed USING THIS METHOD. read both these recent airline reports… At DryFur.com WE ONLY SELL the exact same 8″ hand releasable cable ties the airlines use and recommend you use. We also recommend you install them properly around the door as they are intended to be installed, so you can be sure your pet is safe and secure. Please buyer beware!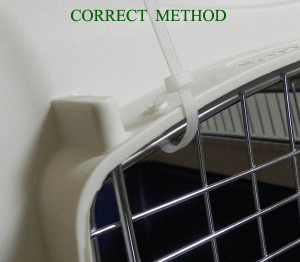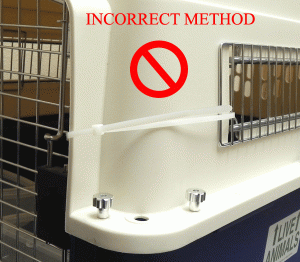 *Re-Useable cable ties aka Zip Ties… Why cut and discard cable ties, ours are re-usable again and again. Smart, simple & Good for the environment.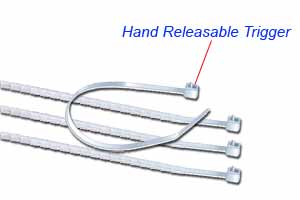 You May Also Like: