DryFur® PCI Patented Features keep pets Dry & Comfy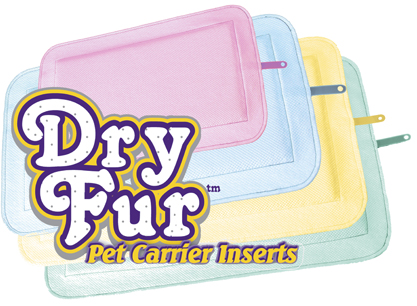 The Amazing DRYFUR®, AS SEEN ON TV!
Designed to be inserted into pet carriers, crates, kennels and cages while pet is traveling or being transported by plane, train or automobile. (ideal for PET TRAVEL, PET SHIPPING, PET air & ground TRANSPORTING & PET RELOCATING) Super Absorbent Polymers trap wetness from pet in a gel-like state deep below the surface of the pad. Soft, Cushioned and cloth-like to keep pet completely DRY and Ultra comfortable. The insulated rigid core provides stability to the carrier and helps holds the insert in place (no bunching up) providing a stable surface for the pet to sit, stand and turn around on. The best part, Dry Fur pet carrier inserts are completely disposable. No washing or laundering ever required, just use until soiled and toss away.
DryFur® is the first and only disposable crate mat on the market. To Order visit
Super absorbent (SAP Technology)
Locks all wetness away from pet (even water bowl spill)
Insulates against heat & cold
Air-cushioned for Ultra comfort (like a tiny air mattress)
Soft and cloth-like
Provides a stable surface for standing, sitting & turning around on
Gives pet owners peace of mind
Disposable after soiled
Ideal for Pet Travel, Pet Shipping and Pet Transporting
Colored coded for easy sizing
Patented Features
Stay-Dry Super Absorbent Pads (top & bottom)
2 pads with Super Absorbent Polymers (SAP) quickly absorb mishaps from all directions, then locks the wetness away from pet & owner.
Cloth-Like Claw Resistant Cover
Soft & cloth-like for comfort, yet strong enough to resist tears.
Rigid Insulating Core
Insulated to protect pet from extreme temperature. Rigid, providing a stable surface for the pet to sit, stand and turn around on.

Air Cushioned
For comfort and added insulation. Like a tiny air-mattress.
Color-Coded, Stay-Clean Tab
Provides a handle to grasp when disposing. Designed to extend under or out through the wire opening of the carrier door to ensure it stays clean and dry. Color-coded for easy size recognition. Blue=Small, Yellow=Medium, Green=Large.
Flexible Wings
Provides side absorption, comfort and stability. This patented feature allows the insert to fit all carriers in it's size category.

You May Also Like: