Dog Travel Leash – Harness Holder
Airline Approved Pouch for storing Dog Travel Leashes and attaching to travel Kennel while traveling on Airline.
Large enough to store dog leashes, dog harnesses and even a bag containing one day food supply required by airlines for traveling pets.
The Dog Travel Leash Pouch is reinforced and very thick heavy duty Vinyl to resist tears and last for years.
Dog Travel leashes are convenient and  recommended for layovers when dog relief stations are available.
Available in Pink, Blue, Red and White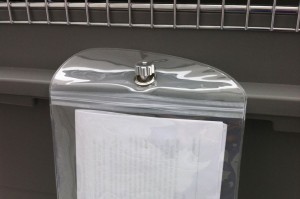 Transparent on front so airline personnel can easily examine content, metal grommet for easy install by attaching to kennel by threading on kennels bolts and securing with nut. Pouch can be easily opened to remove items and closed to store items without removing pouch once installed.
This Dog Travel Leash Pouch is a true must have when pets are traveling on airlines especially long distances like International destinations.

You May Also Like: