Document Storage Pouch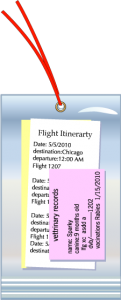 Price:$1.99 Ea
Price:$4.58 6-Pk

Weight:0.25 LBS
Shipping:Free Shipping (US Only)

Product Description
Keep your traveling pets vet records, health certificates, vaccines records, certificate of acclimation, USDA import documents and  travel itinerary all in one convenient pouch that attaches to pets carrier kennel. Also perfect for holding and displaying a current picture of your pet on the carrier kennel. Bottom opening for easy access.
THICK 4 ML Poly Zip Lock Pouch with bottom opening allows easy access to documents without removing from Kennel.
Comes with twist tie to attach to pet airline kennel / crate.

You May Also Like: