Approved or Banned Pet Carriers and Kennels Reviews Reports
WHAT is a Airline Approved Pet Carrier or Kennel? Read our Unbiased Reports and Reviews on some of the Top Selling "Airline Approved" Pet Carriers & Kennels
I have decide to start this page to try and guide pet owners who are shopping for an "Airline Approved" Pet Carrier or Kennel. At DryFur.com we do NOT sell or benefit from the sell of any brand or style of Plastic pet carriers / kennels, so you can be assured all the following information is completely honest & unbiased.
Lately, I have had countless calls from dog & cat owners with questions such as "What size DryFur Pads do I need for our newly purchased "Airline Kennels". Which leads me to ask "What exact Brand & size of Kennel did you purchase?" I am amazed at some of the answers I receive. At least half of them have purchased kennel brands and styles that I know for certain are not "Airline Approved" or even accepted by any airline for use in cargo or as checked baggage. Upon further investigating I can see why these pet owners are so confused. Many of these products are currently listed and promoted by MAJOR Pet SUPPLY Companies as "Airline Approved".
I am not exactly sure how or why this is the case, my guess is that many many years ago these carriers and kennels were considered "Airline Approved" but as safety issues have progressed & changed in the airline industry so has the rules and requirements for Pets who travel on airlines. And many of these Pet Stores & Catalogs have just not kept up with the new rules and further have not bothered to changed the descriptions of their products, in their retail stores, catalogs or online.
EXAMPLES OF AIRLINE APPROVED CARRIER KENNELS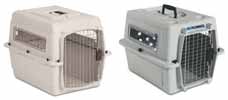 THE NO. 1 Safest and always guaranteed to be "AIRLINE APPROVED" Pet Carrier / Kennel for airline travel in the cargo area of the plane or as Checked Baggage is Sky Kennel or Vari Kennel (they may still need slight modifications if they lack ventilation on back wall or Cable Tie holes around the door) For a more detailed look at Airline Kennels features and history visit our Blog.
ATTENTION: 1/1/12 British Airways has just announced they will no longer accept a size 100 for any pets. They are now requiring all pets to travel in a 200 – 26″ x 18″ x 19″ or larger even for a small pet.

THE NO. 1 Safest and always guaranteed to be "AIRLINE APPROVED" Pet Carrier for airline travel in the passenger area of the plane as carry-on is Sherpa, SleepyPod AIR & Sturdi Bag. Trying to decide what carrier will fit your needs? Visit our Pet Carrier Safety Features Post.

For Those Looking for a New Airline Approved Kennel, I have recently found a great resource at a Small Online Store, all their Airline Kennels and Airline Carriers are guaranteed to be 100% Airline Approved by ALL Airlines and have all the features required for Domestic and International Flights plus they are now offered with our Deluxe Airline Safety Kits. Contact Sue at Katsnus tell her Lisa from DryFur sent you.
EXAMPLES OF (NON) AIRLINE APPROVED CARRIER KENNELS
The pet carriers & kennels listed below are not approved or accepted by most airlines yet are promoted as "Airline Approved" or "meets the requirement for Airline Travel" by many reputable Pet Supply Companies Including Drs. Foster & Smith, Petco , PetSmart & MANY OTHERs even by the manufacturer Petmate-Doskocil so please be aware and check with your airline before purchasing a New Airline Travel kennel for your pet and check with your airlines kennel rules.
Now there is other pet carriers & kennels that will be accepted by airlines for travel in the cargo area of the plane as long as they DO NOT have any of the following features:
Double Doors Top Loading

Meaning one wire door in the front of the carrier and one wire or plastic door on the top of the carrier. American Airlines and Delta Airlines site clearly states no top opening kennels allowed, other airlines read must have kennel must have solid roof.
---
Dial Latch Attachments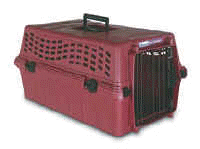 Meaning no nuts and bolts to keep the top and bottom of the carrier together, instead they have round plastic dials that often fail. Some airlines do still accept this type of carrier but many do not. For example United Airlines clearly lists with a photo on their pet travel kennel requirements page this type of kennels will no longer be accepted.
---
Snap Latch Attachments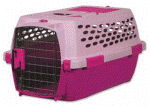 Meaning no nuts and bolts to keep the top and bottom of the carrier together, instead they have plastic latches that snap together and often fail to stay snapped closed. This pet carrier kennel is also listed on United Airlines pet page as will no longer be accepted. Please See our page on Kennel Modification for tips on how to secure this type of kennel for airline travel.
---
Plastic Pegs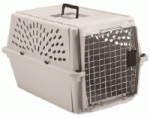 Meaning no nuts and bolts just small plastic pegs that are inserted into the holes and then turned to the right or left to keep the peg in place. Some airlines still accept these types of pet carrier kennels, many do not their rules will read "all plastic attachments are not acceptable"
Although these type of kennels can be refused they are easily modified by removing the plastic pegs and adding Metal bolts & wing nuts. As long as the door is metal grate and not plastic. *Not approved, Unless you replace plastic pegs with our Universal Hardware Kit
ATTENTION: United Air, Delta, Alaska Air & Horizon ALL require kennels to be secure with metal bolts, kennels with plastic attachments are no longer accepted by these airlines. Modify your kennel before flying with our exclusive ONE SIZE FITS all kennel hardware kits.
---
Plastic Doors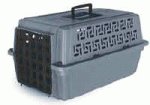 Meaning doors completely made with plastic. Doors must be a metal grate. Plastic lock housing & grips are acceptable. NorthWest Airlines List plastic doors and wire top opening kennels as not acceptable. As well as any kennel missing even a single attachment.
---
Collapsible or Fold-able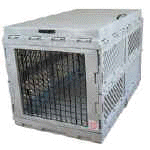 Meaning crate is able to fold down after use. This PLASTIC type of carrier was banned from airlines many years ago and is still advertised as "Airline Approved". Alaska Airlines first rules reads the Kennel must be NON COLLAPSIBLE.
---
Plastic Wing Barrel Door Latches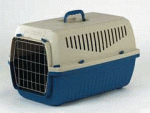 Meaning door comes out completely when all 4 latches are turned to the open position. Plastic latches can accidentally get turned in open position releasing the door and the pet. Door is also unable to accept Releasable cable ties. Also has plastic pegs which are also not Airline approved.
---
Wire Metal Crate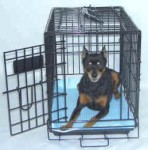 Meaning made entirely of metal grate. Lower walls and floor of kennel must be solid and leak proof.
---
The above kennels and carriers are the most common carriers out there with the misconception of being "Airline Approved" if you as a pet owner have any other stories of being rejected at the pet check in counter with your "Airline Approved" kennel please email me I will gladly add them to the list. I hope this helps to be sure your pet is not left behind. Any questions or comments please feel free to call, email or post below. For more information visit DryFur.com

You May Also Like: